Organization Chart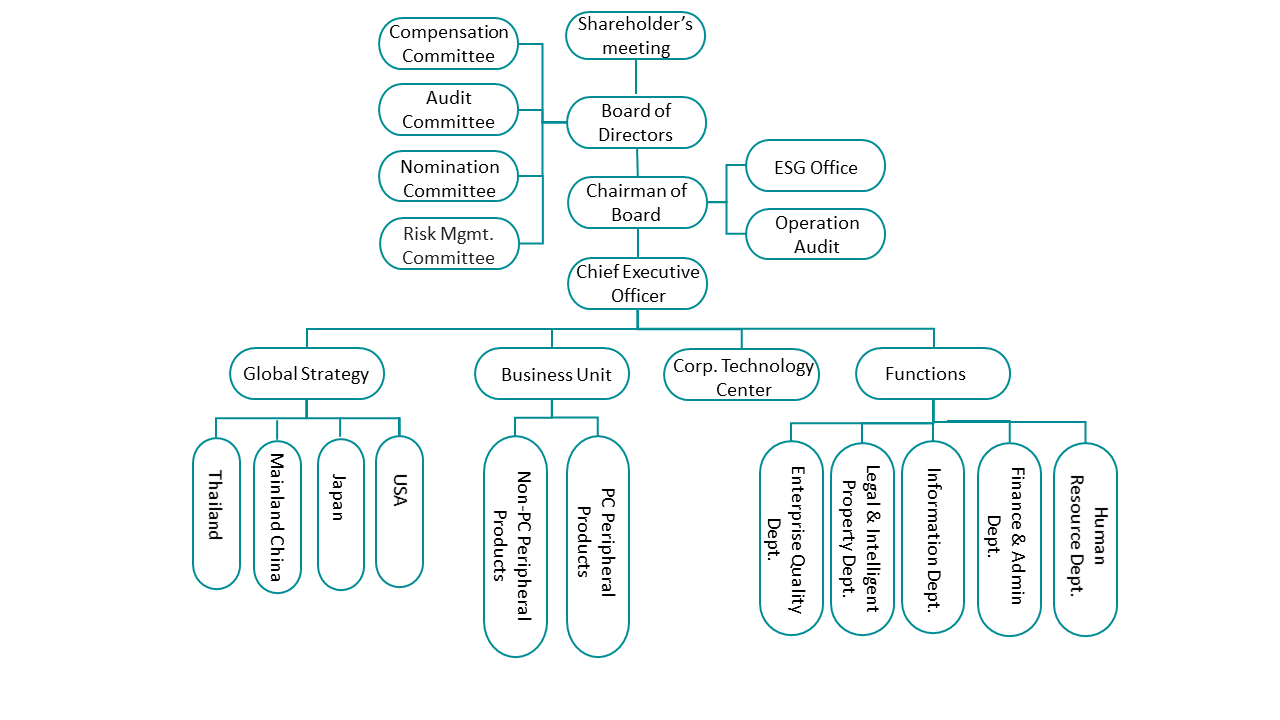 Function and Responsibility
Department

Function and Responsibility

Operation Audit

Carry out reviews and audits of the internal control system. Report to the Board and managerial officers, and measure business efficiency on a regular basis. Provide recommendations for improvement where appropriate to ensure the efficacy of internal controls and improve organizational performance.

ESG Office

1. Planning and oversight of the quality system 2. Assisting the business and advisory units with the promotion and execution of CSR projects that serve as the Company's response to economic, environmental and social topics.
3. Learning from the best practices of domestic and overseas benchmark enterprises to provide recommendations and advice on their implementation to strengthen the relevant units as well as Company sustainability and competitiveness.

Enterprise Quality Department

1. Planning and oversight of the quality system 2. Improvements in quality of Technical design 3. Improvement of product quality
4. Handling of customer complaints and improvements. 5. Planning and execution of quality training for employees.

Legal and Intelligent Property Department

IP and legal affairs.

Finance and Administration Department

1. Accounting, finance, tax, and share affairs. 2. Assistance with the execution and promotion of projects.

Human Resource

1. Employee and human resources management. 2. Salary and welfare management. 3. Education, training and career development. 4. General administration. 5. Health and safety management.

Information Departmen

t

1. Coordination and planning of Company' IT system security, applications and integration.




2. The establishment and maintenance of the digitized information system; the analysis of legacy manual work flow and the design of future system work flow.




3. Planning and development of new application systems, as well as the expansion and upgrading of existing systems. 4. User training and operational planning.




5. Planning and execution of disaster recovery management. 6. Equipment planning and management. 7. Management of computer operations.

Business Unit

1. R&D: Research, design, and development of new products The evaluation, analysis and preparation of new product plans. The transfer of technologies and documents for the production of new products.




2. Marketing: Product planning, marketing, and market development.

Corporate Technology Center

In charge of the research, design, and development of forward-looking core technologies in each product area.